Twitter (Twit) Auto Follower Introducing....
Twit Auto Follow Bot (TAF) Still In Beta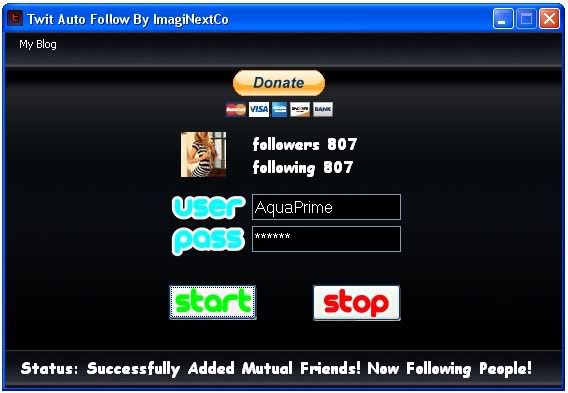 Description: I put together a bot that will do all that annoying work. Unfollowing all the people who won't follow, following all the people who follow you, and finding users to follow. so i made TAF and it's completely free!
Bot Is Fully Automated!
Please Report all bugs
How It Works:
1.) Deletes All non-followers
2.) Follows all people who have followed you (prevents them from unfollowing you)
3.) Follows your followers until it follows about 500 people (500 because for anti-ban)
4.) Waits 24 Hours and repeats the process.
5.) just leave the program running for days and watch you get thousands of followers!
If you download share cash you will be helping me out and this version does not send a tweet to advertise my site
Download Share Cash:
Twit Auto Bot.exe
Note: this version sends a tweet to advertise my site.
Download Megaupload:
Twit Auto Bot.exe
youtube video:
http://www.youtube.com/watch?v=JTBJthMTfdE
Check out my blog for updates and such:
http://skylerstips.blogspot.com/